I'll add a page like this one to describe each family member I've researched. I'll create links to these individual pages from my "Family Members List Page."

Here's the type of information about each person I might include:
Date and place of birth ------- Denver 1961
Date and place of death ----never (Jesus Saves)
Marriage date and place-----Lakeland 12-18-99
Names of children ----------Sunny (the poodle)
Names of parents------------Mom and Dad
Marital status----------------Finally
Name of spouse---------------Kelli Miller-Dorrough
Immigration information------Legal
Places the person lived------Alabama & Florida

I'll include sources for the information wherever possible.
If I have recorded a family member's voice, I may include it here.


Here is a picture of Scott. Not a good one.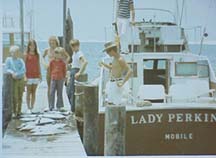 Can you guess which one is Scott? Do you know when and where this was ?



Memories and Stories
I'll use this area to describe any personal memories I have about this person, or any family stories about the person I might have heard.